KONSTRUKT ORANGE GRIT HAND CLEANER - 20LT
KONS-HCORGR20LT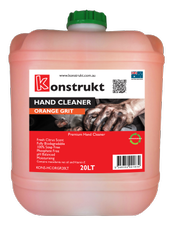 This high quality Konstrukt grit hand cleaner will remove the toughest of stains without drying or cracking skin. The moisturising formula is both phosphate and soap free, leaving it gentle on the skin and suitable for both domestic and commercial use.
Features and benefits
Ideal for workshops, mining, food preparations operations, restaurants, farms & garden nurseries

Removes and dissolves tough grease, oils, tars and soils

Citrus scented

Contains Macadamia Nut Oil and Vitamin E

Also available in 500ml and 5L bottles
Find your nearest Member
Please enter your suburb or postcode to find the closest Member to you.