LUFKIN Y833SI BULK PACK
Y833SI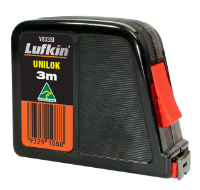 Features and benefits
3m x 19mm
High Impact Resistant Black case with yellow blade.
Built in shock absorbing bumper.
Graduated in mm on both edges, red markings every 100mm.
Removable belt clip.
Manufactured in Australia to comply with Australians standards AS 1290-4-1995l.
Find your nearest Member
Please enter your suburb or postcode to find the closest Member to you.