KINCROME 500MM H/DUTY 3IN1 FLOOR FAN
KP1015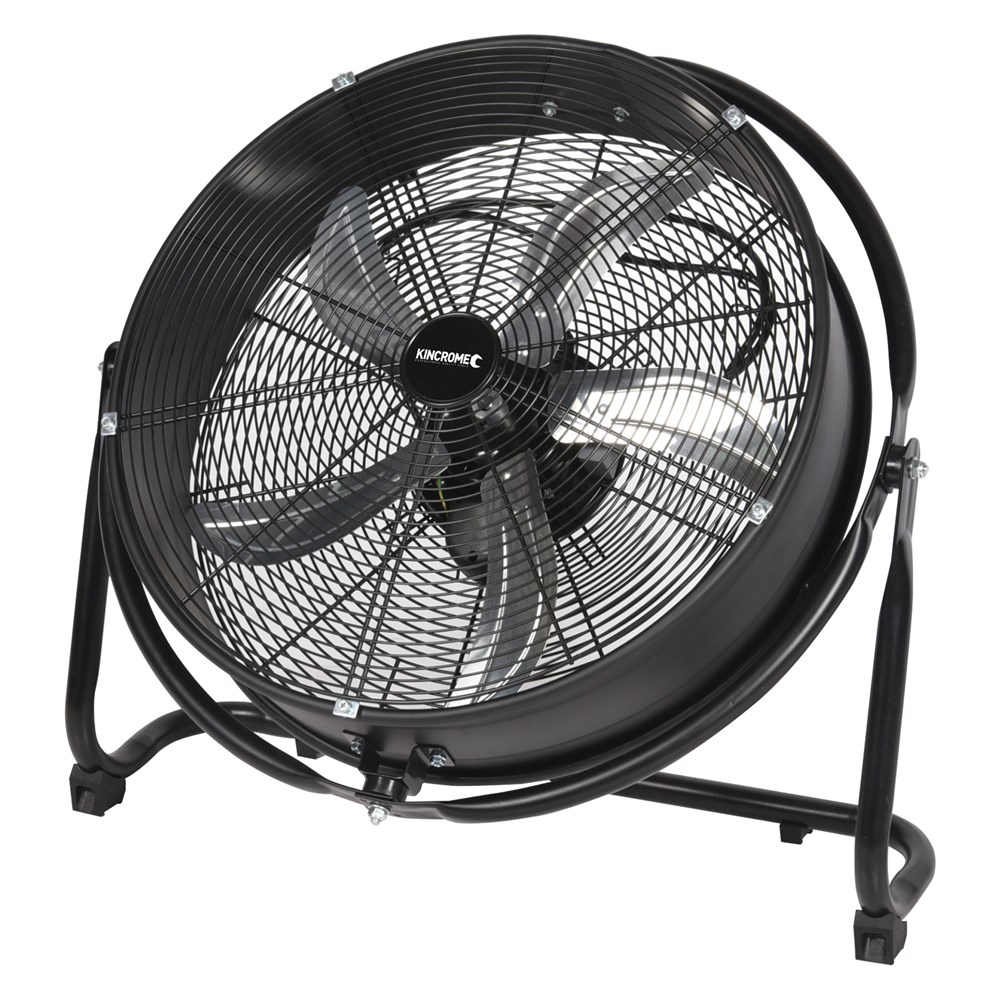 The 500mm (20&rdquo;) Heavy Duty 3 in 1 Multi-Purpose Fan is packed with features to assist and help you get the job done comfortably.<br /><br />Features such as an energy efficient induction motor, 3 speed switch, high velocity air flow, heavy duty constructed frame, drum &amp; safety grills, 5 aluminium blade construction, tilt and rotatable fan drum function &amp; 3 in 1 mountable design.<br /><br />The 5 aluminium blade construction is different to what is conventionally seen in the market delivering up to 5% more air velocity to most standard 3 blade fans available.<br /><br />The 3 in 1 Multi-Purpose Fan enables you to mount the fan onto a floor, wall or ceiling with the brackets supplied. This provides multiple options for this fan in the field.<br /><br />With an impressive air velocity of 110m&sup3; per minute this unit is perfectly suited to ventilating small to medium areas inside or when in a covered area can be used outside.<br /><br />The tiltable &amp; rotatable drum body will enable the user to position the fan where needed and tilt or rotate the fan body anywhere allowing you to ventilate almost any area you need.<br /><br />The fan comes fully assembled and ready to go straight from the box which means no down time having to assemble this product once you get it home or onto the jobsite.<br /><br />The entire KINCROME fan range complies to all safety and standards requirements including testing conducted to tropical class T clause.<br /><br />KINCROME Heavy Duty fans are built tough and will last the distance when using them out in the field.
Features and benefits
&bull; Heavy Duty Fan<br />&bull; 3 Speed, 5 Aluminum Blades<br />&bull; 111W Induction Motor<br />&bull; 110m3/min Air Delivery<br />&bull; Ceiling, Wall or Floor Mountable<br />&bull; Adjustable Tilt &amp; 360&ordm; Rotatable<br />&bull; Noise Level 69 dB<br />&bull; Complies to AS/NZS &amp; Climate T Approvals<br />&bull; Heavy Duty Grills &amp; Construction<br />&bull; Comes Fully Assembled<br />
Find your nearest Member
Please enter your suburb or postcode to find the closest Member to you.