FASTAID NEW HEARTSINE SAMARITAN PAD500P
RD500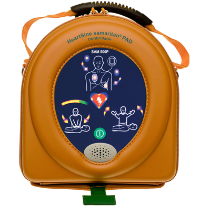 NEW HEARTSINE SAMARITAN PAD500P WITH FULL PATENTED CPR ADVISOR SOFTWARE. (CONSISTS OF PAD IN CARRY CASE AND 1 X ADULT PAD-PAK) 3.5 YEAR BATTERY LIFE FROM DOM. 10 YEAR WARRANTY FROM DOM. INCLUDES SOFT CARRY CASE.
200 (W) X 184 (D) X 480 (H) MM
Features and benefits
Defibrillation is easy, CPR is the hard part...The HeartSine samaritan? PAD 500P provides all the advantages of the 300P with the addition of an innovative CPR advisor. Regardless of whether it is a lay person or a professional rescuer, the AHA/ERC guidelines place a greater emphasis on the importance of CPR and advocate the prompt initiation of effective bystander CPR to significantly reduce mortality due to out-of-hospital Cardiac Arrest.

HeartSine can now provide a device to support these guidelines by the introduction of the HeartSine samaritan PAD 500P with CPR Advisor

User-friendly. Easy-to-understand visual and voice prompts guide a user through the entire process

Always ready. A System Status Ready Indicator flashes to show that the complete system is operational and ready for use. Device automatically runs self check each week.
Find your nearest Member
Please enter your suburb or postcode to find the closest Member to you.