FASTAID HEARTSINE SAMARITAN PAD360P BASIC
RD360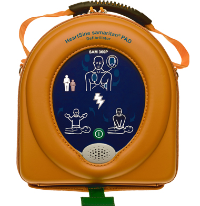 HEARTSINE SAMARITAN PAD360P. BASIC (CONSISTS OF PAD IN CARRY CASE AND 1X ADULT PAD-PAK) 3.5 YEARS FROM D.O.M. BATTERY LIFE. 10 YEAR FROM D.O.M. WARRANTY. INCLUDES SOFT CARRY CASE.
200 (W) X 184 (D) X 480 (H) MM
Features and benefits
Portable and lightweight. The samaritan PAD 350P is lighter (1.1 kg/2.4 lbs) and smaller than other defibrillators

Durable. The samaritan PAD 350P resists shock and vibration and carries an IP56 Rating, the industry?s highest rating against dust and moisture ingress. It also carries a ten year unit warranty.

Advanced technology. The samaritan PAD 350P utilizes proprietary electrode technology, advanced and stable firmware, and proprietary SCOPE?* Biphasic technology (an escalating and low-energy waveform that automatically adjusts for patient impedance differences) to assess rhythm and recommend defibrillation if necessary
Find your nearest Member
Please enter your suburb or postcode to find the closest Member to you.