CRESCENT TONGUE & GROOVE PLIER SET,7,10,12
R200SET3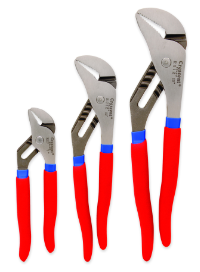 Multi-Grip Pliers Set, 3Pc.
Features and benefits
World famous Crescent ? brand. More positions for more flexibility and more grip comfort. Patented angled tooth pattern for better grip. Extra wide, straight, jaw openings. Unique alloy steel and induction hardening, maximizes durability. Precision machining provides smooth, positive joint action with no slip. Self-locking adjustment
Find your nearest Member
Please enter your suburb or postcode to find the closest Member to you.